Brighton, Hippie Kushi style
I was born in Brighton on the south coast of England. It's always been a charming, eccentric and bohemian city that has a lot to offer. Exciting bars and clubs, great restaurants and a great party scene. It also offers lots of different live music venues where an eclectic mix of styles can be heard; everything from world music, jazz, rock to hippie psychedelia, punk and Two-Tone.
pic of pier: thetraveltester.com
"Brighton's location has made it a popular destination for tourists, renowned for its diverse communities, quirky shopping areas, large cultural, music and arts scene and its large LGBT population, leading to its recognition as the "unofficial gay capital of the UK". Brighton attracted 7.5 million day visitors in 2015/16 and 4.9 million overnight visitors and is the most popular seaside destination in the UK for overseas tourists. Brighton has also been called the UK's "hippest city", and "the happiest place to live in the UK" WIKIPEDIA
My favourite part of Brighton is the North Laines it is an area full of new age hippies, funky hippie shops and great places to eat.
"Today the North Laines is a bohemian shopping area popular both with locals and tourists, well served with cafés, bars and entertainment venues including theatres such as Komedia, which is in a former Tesco supermarket. The latter had been closed for some years in anticipation of major redevelopment of the area which failed to materialise; in the building was for some time a covered market with a number of small stallholders, until Komedia moved in from their previous home in Kemptown. The first branch of Anita Roddick's Body Shop, later to become a multinational business, was opened at 22 Kensington Gardens. Typical retailers include art, antiques, architectural salvage, second-hand books, music, "retro" clothing, graphic novels, musical instruments and new age paraphernalia. There is a high turnover of boutique-style shops in North Laine in general."
"One of the less shopping-oriented streets, Upper Gardner Street, is closed to traffic every Saturday for an on-street market. Amongst the houses of this street are several antique dealers."
"The City Council redeveloped a gap site, constructing a new library and public square which became available to the public in 2005. This significantly changed the flow of pedestrians, which prior to this had been predominantly straight through North Laine on the main shopping streets, and is now more two-dimensional." WIKIPEDIA 
So I decided to take a day trip down to Brighton North Laines to give you the Hippie Kushi guide to this hippie hangout.
When you come out of Brighton station you find yourself at a parking area for cabs and there is also a selection of hotdog and burger vans here. If you take a right and walk to the side gate you will see a steep road travelling downwards under the road. This road will take you down to the North Laines.
The first place you come to is the Prince Albert pub, a trendy hip hangout with a club and live music area upstairs.
ONE OF BRIGHTON'S ICONIC MUSIC VENUES
"The Prince Albert Brighton is an iconic pub, its bold presence is sure to strike visitors making their way down from the train station to the North Lain area of the city.
Most notable is its giant commemorative mural to indie music icon Jon Peel, with the rest of the mural made up of music greats from Kurt Cobain to the Beetles. Look a little closer and you will also see the replica Banksy mural of two Kissing Coppers, the original was removed and sold at auction in 2014 for $575,000."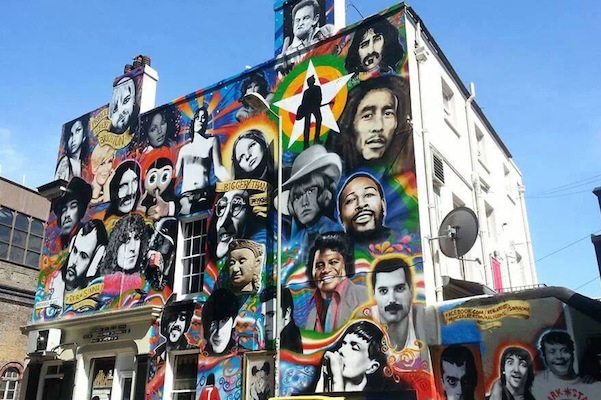 THE PRINCE ALBERT BRIGHTON – GREAT FOR GIGS
"Inside, and The Prince Albert is a maze of eclectically styled drinking dens, an antiquated sitting room, a small music memorabilia and covered backyard as well as front street-side seating. Upstairs there is an events room with its own bar that hosts plenty of live music gigs, view the lineup here."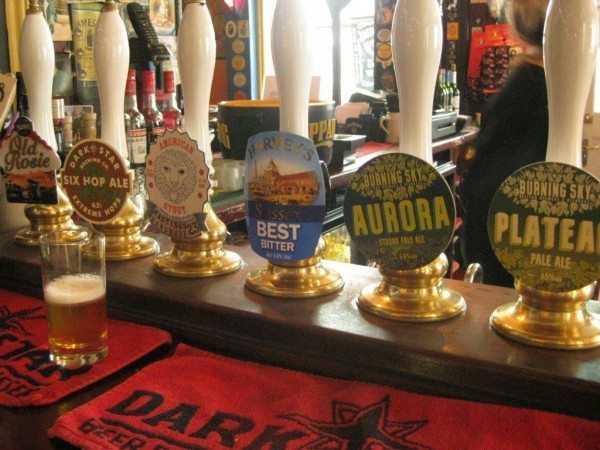 "The steady decline of independent music venus makes The Prince Albert Brighton a precious and endangered kind of pub, it has a large and loyal following of patrons and a team of enthusiastic and friendly bar staff. It is a pub with a sense of purpose and community that so many towns and cities now completely lack."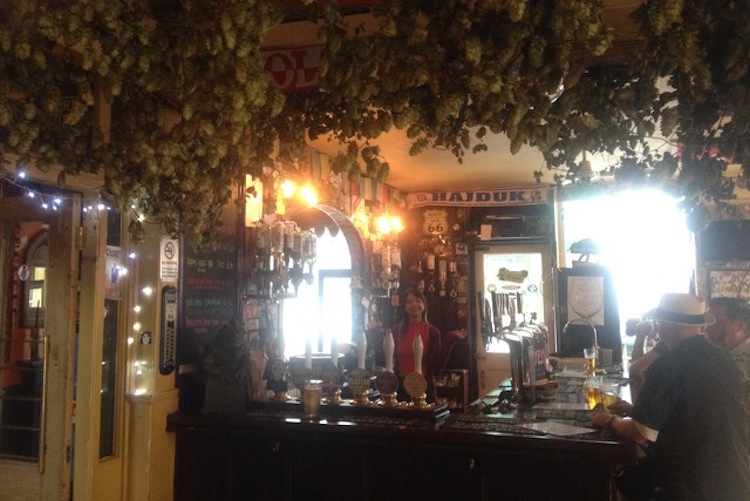 SERVING MORE THAN BEER AND BEATS
"The food element of the pub is delivered by Casa Mendonça, offering authentic Portuguese and Spanish tapas. Well priced and traditionally made, the small dishes are great for sharing with friends or picking at as a light meal. The large plates offer up some hearty and flavoursome dishes such as Portuguese kebab on a skewer with rice or fries, chorizo stew and two types of paella."
After a quick drink here you can carry on down the street to where the North Laines start.
There are some wonderful wall painting in this area giving the place a real hippie vibe.
Grafitti or art some might argue.
The psychedelic colour is everywhere, even on this phone line box.
Then you enter the Laines themselves and the many funky hippie clothes shops. If you are a bit of a hippie you will definitely find what you need here
This area is famous for its unusual shop fronts.
If you look closely you will find amongst the shop fronts the entrance to some fantastic indoor markets for you to explore, where you can find all kinds of wonderful things such as records, jewellery, hats, second-hand clothes, antiques, incense sticks, buddhas, Hindhu gods and funky weird furniture.
There are also specialist shops selling crystals and stones as well as Eastern treatments.
If you are hungry there are great vegan restaurants and cafes.
But most of all this is a great place to shop, eat, drink and people watch.
If you are looking for an alternative way of living and this kind of thing is your scene or even if you are looking for a great weekend away or even a new life by the sea, you could do worse by taking a look at wonderful crazy Hippie Kushi Brighton.
Cheers…