Hippie Kushi Quotes
In my next post, I will be writing about vagabonding (long-term unplanned travel), free walking if you like or walkabout. I have now set in place a plan for the future that will allow me to achieve my goals of traveling the world, living a hippie lifestyle and my lifelong dream of living on a boat.
So this week I wanted to give you some inspiring quotes for all of those who want to travel and who seek a different perspective on life and how we choose to live it.
This one is for the seekers.
"When we see our uniqueness as a virtue…only then will we find peace" GHOST IN THE SHELL
"We travel, initially, to lose ourselves; and we travel, next, to find ourselves. We travel to open our hearts and eyes and learn more about the world than our newspapers will accommodate. We travel to bring what little we can, in our ignorance and knowledge, to those parts of the globe whose riches are differently dispersed. And we travel, in essence, to become young fools again – to slow time down and get taken in, and fall in love once more." PICO IYER, WHY WE TRAVEL
"Often I feel I go to some distant region of the world to be reminded of who I really am…Stripped of your ordinary surroundings, your friends, your daily routines, your refrigerator full of your food, your closet full of your clothes, you are forced into direct experience. Such direct experience inevitably makes you aware of who it is that is having the experience. That's not always comfortable, but it is always invigorating" MICHAEL CRICHTON, TRAVELS- TAKEN FROM ROLF POTTS- VAGABONDING
"Travel is a creative act-not simply loafing and inviting your soul, but feeding on the imagination, accounting for each fresh wonder, memorizing, and moving on…And the best landscapes, apparently dense or featureless, hold surprises if they are studied patiently, in the kind of discomfort one can savor afterward." PAUL THEROUX, TO THE ENDS OF THE WORLD.
"Listen: we are here on earth to fart around. Don't let anybody tell you any different!" KURT VONNEGUT, TIMEQUAKE
If you get this, you'll get the essence of the hippie ideal:
"What's your view on life-do you think it's got meaning, or is it just a random one-off? If it's got meaning, do you believe in 'god', or a more Buddhist concept-like a universal entity that we're all part of? If you take the wider view, do you think becoming part of that universal entity can be achieved in one life or does it take many? If it takes many lives, you obviously believe in some form of reincarnation. OR Do you think it's fair that some people are born rich, healthy, intelligent, with access to education and opportunity to become enlightened, while other people are born into poverty, have terrible physical handicaps, suffer mental problems, die as infants, etc? If you think it's unfair, is it because this universal entity that we aspire to be part of is essentially unfair? Is it flawed? Can it be flawed? If it can't be flawed, what would make it fair-so that everybody had the same opportunities to achieve it-to get there? Maybe through a series of lives (reincarnations)? But no two series of lives could be the same-they'd have to be identical to be utterly fair, wouldn't they? How could every individual experience an identical series of lives?" IN SEARCH OF THE LOST CHORD 1967 AND THE HIPPIE IDEA-DANNY GOLDBERG
"Answer: By experiencing fully EVERY LIFE!"
I also wanted to suggest some music for your travels.
"Liquid Sound Company are an American acid–psychedelic rock band, formed in the late 1990s.
Formed by John Perez in 1996, the group originates from Arlington, Texas. Perez has mainly been busy playing heavy doom with bands Solitude Aeturnus and Sorrows Path, adding to the band's lack of stability over the years as a steady, active band. Rockadelic Records released the debut album 'Exploring The Psychedelic' in 1996 where Perez is supported by Teri Pritchard (bass) and drummer Jason Spradlin. The band offers quite diversified songs with a pretty minimalistic sound but also features heavy fuzz guitars, oriental influences, and hypnotic elements. They would release another effort in 2002 named 'Inside The Acid Temple' – this time with Moog support by new bass player David Fargason. The album was later re-released in 2005 by German Nasoni label on vinyl.
https://www.facebook.com/liquidsoundcompany/
The group features psychedelic influences from west coast psychedelic to the heavier Hawkwind territory. Noting Dead Flowers and Agitation Free as influencing artists.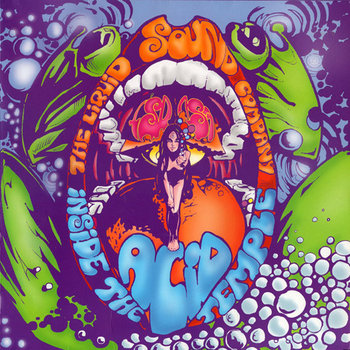 Inside The Acid Temple
https://liquidsoundcompany.bandcamp.com/
Exploring The Psychedelic
Liquid Sound Company seemed to have disbanded but came back in 2011 with a new album 'Acid Music For Acid People' on Nasoni, made of studio outtakes and two extended live cuts. Liquid Sound Company was signed with Brainticket Records as of 2010″ WIKIPEDIA
And one final quote:
"Dear friends…We all hear the same sounds. We look up and see the same sky.  We cry the same tears. One's feelings and emotions are the same. All mothers are sisters. All fathers are brothers. All children are one. Yet there is hatred, there is violence, there is intolerance and confusion among people. We don't try hard enough to understand each other. We don't seem to realise that we all have the same basic needs, no matter who we are and which part of the world we come from. We must understand the difference amongst us and celebrate the oneness. We must make the world a place where love and friendship dominate one's heart. Equality, respect, compassion, and kindness must guide one's action; only then will we be able to peacefully and lovingly live the life we each choose. May this year be the 'year of peace' for all, far and near, friends and foes." THE PRINCIPAL, LORETO COLLEGE, SHILLONG-TAKEN FROM AN INDIAN LOVE AFFAIR BY SIMON GANDOLFI
An Indian Love Affair
Simon Gandolfi – 

Arcadia Books Limited

, 2016
In the early 1960s, travel-writer Simon Gandolfi drove a VW from England to Goa where he rented a bungalow on the beach at Calangute. It was here that Gandolfi met and loved Vanessa and explored with her much of the subcontinent. The 2008 terrorist attack on the Taj Hotel in Mumbai prompted Gandolfi to re-explore the subcontinent on a small motorcycle. Collecting a Honda 125 from the factory outside Delhi, he rode for six months and 12,000 kilometers. This memoir chronicles his two journeys in which Gandolfi explores both the changes in modern India and in himself.
May your journey begin…